We are Greener Futures Partnership – a collaboration of like-minded housing associations.

Greener Futures Partnership was set up in 2021 because we know a joint effort will do so much more to help the social housing sector seriously address the green agenda.

The Partnership is made up of five of the UK's largest housing associations with a joint turnover of £2.3bn, representing over 600,000 customers in 300,000 homes.
Our purpose
Using the strength of our partnership we'll improve the energy efficiency and affordability of our homes, to enhance our customers' living conditions, creating a sector-leading approach to sustainability.
Our aims
Have an agreed and tested approach to delivering sustainable housing
Use our strong partnership to procure services; build skills and capacity in the sector
Improve energy efficiency and create healthier homes
Show the benefits of sustainable living
Be a trusted and influential voice for sustainability in the housing sector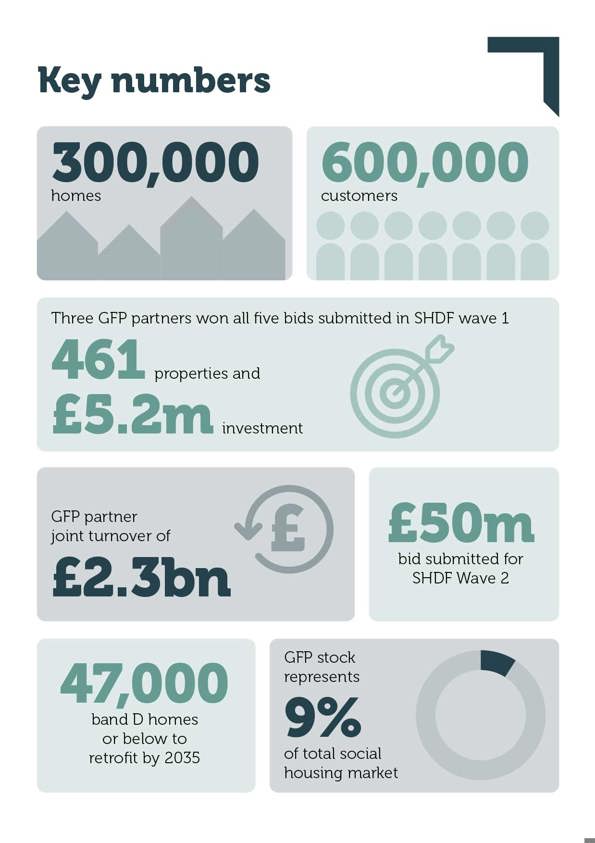 Our key numbers
Together the Greener Futures Partnership:
Represent 9% of the total social housing market
Provides housing to 600,000 customers living in 300,000 homes
Has a joint turnover of £2.3bn
Has 47,000 band D homes or below to retrofit by 2035

The three Greener Future Partnership (GFP) partners have won all five bids submitted in SHDF wave one, with 461 properties and £5.2m investment. And have £50m submitted for SHDF wave two.